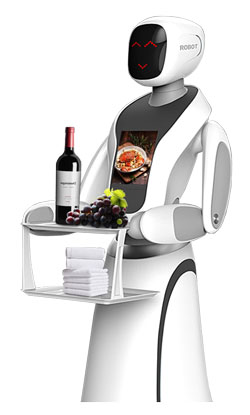 Amy is an Intelligent Service Robot – a truly multi-functional, autonomous, mobile robot designed for providing friendly and effective customer service to all guests or customers in a retail or hospitality venue. Amy is in her 8th Generation, so has been field tested like no other robot on the market.
Amy can greet your guests when they arrive and also move around your venue autonomously. She works alongside your staff, making deliveries and interacting with guests just like a waitress. She automatically avoids obstacles using advanced radar (LIDAR) and an array of other sensors and clever navigation software.
3 reasons your venue needs Amy:
It can be difficult to find innovative ways to attract new customers and give them a truly unique customer service experience. Amy gives your venue that Wow Factor customers are looking for! They will take selfies with her, they will tell their friends and share images of her on social media, so your venue should gain significant exposure and celebrity as a result.
Amy can work anywhere, anytime. She is happy to do boring repetitive and even dangerous tasks, for hours on end. Your staff will enjoy working alongside her and they can focus on more important and interesting activities. All this should lead to greater job satisfaction, less staff turnover and overall improved customer outcomes in your venue.
Service staff employees in New Zealand start at $18 per hour plus on-costs, up to $40 per hour. Add to this, recruitment, training, and general staff turnover costs, it can make it very difficult to run a profitable business. Amy costs as little as $65+GST per day… and will never require a pay rise or penalty rates!
Key features
Fully autonomous.
Goes anywhere a wheel chair can go, as long as aisles at least 1m wide.
Will never bump into people or objects, perfectly safe for staff and customers.
Runs for up to 10 hours on a single charge.
Automatically returns to charging dock when not in use and recharges within hours
---
Interested in having an Amy Waitress Robot please Contact Us to discuss your requirements.
---
Automatic Delivery: Precision Navigation delivers dishes to designated points. The shock absorption system enhances stability and prevents spillages.

Menu System: Recommend today's specials and take orders.

Dish Return: Collect dishes until fully loaded and return them to the kitchen.

Trackless Navigation: Utilising lidar, infrared & ultrsonics provides high precision indoor navigation and selection of the best route.

Auto Docking Charger: At preset times the robot waiter will automatically return to recharge.

Automatic Obstacle Aviodance: With advanced obstacle avoidance algorithms the robot can perceive real-time environment changes to bypass obstacles with the path planning and select the optimal route.

Double Tray: Each tray can support up to 5kg's perfect for the catering industry.

Mobile Ads: With the HD touch screen perfectly positioned in the chest we can display adverts, videos, specials, menu's, reminders and more.