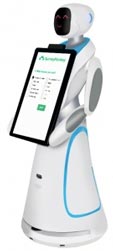 Our interactive Info Bot (or service bot) has a multitude of uses in business and hospitality with its interactive audience engagement it can provide many services such as Information Center, Marketing, Concierge, Tour Guide, Receptionist, order taking and much much more.
The novelty of interacting with our robot creates increased attention which means an increased engagement in your brand. Plus having an Info Bot dealing with tasks frees up your valuable labour resources for other tasks.
Fully customisable we can add your logo, greetings, knowledge database, information, order system and so much more. With its 24″ interactive touch screen the platform is very flexible so we can tailor a solution to your requirements.
We offer short term event rentals as well as longer term lease and purchase solutions developed to meet your requirements by our in house engineering services.
▪ Receptionist
▪ Ordering
▪ General Information
▪ Take Payments
▪ Check-In
▪ Directions
▪ Advertising
▪ Play Videos
▪ Guide
▪ Entertainment
▪ Discounts
▪ and more…


Interested in a long term lease or purchase of your own Info Bot please Contact Us to discuss your requirements.

General Specifications:
Height: 1.5m
Speed: Up to 0.7m/s
Screen SIze: 23.8″
Position Precision: 50mm
Run Time: 10 hours
Navigation: Lidar Simultaneous localization and mapping