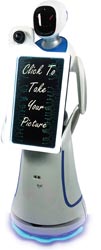 Meet Eva, our autonomous robot photographer. Eva will attend your event as your star photographer, mingling with guests with her high quality DSLR camera, facial recognition and integrated touch screen. She will work the room asking guests to take a photo. Eva will then send your guests their photo's via text message or print them directly to her high-quality wireless photo print station at your event. Plus we will give you a copy of all the photo's after the event.
▪ Weddings
▪ Birthdays
▪ Parties
▪ Product Launches
▪ Corporate Events
▪ Trade Shows
▪ Bucks/Hens
▪ Promotions
▪ and more…
Eva is 1.5m tall and features a large 23.8-inch touch screen. She has precise infrared sensors for navigation and obstacle avoidance. Being mobile and a fully autonomous robot Eva is much more exciting and interactive when compared to the bulky photo booths and magic mirrors.
Complete packages start from just $550 which include a 2 hour photo shoot session, up to 200 photo quality prints and 200 SMS images. We'll deliver and setup Eva before the shoot so she is ready for action and pick her up after the shoot is completed.
We have 4 and 6 hour packages also available or we can design a custom package to suit your event,


Interested in a long term lease or purchase of your own Snap Bot please Contact Us to discuss your requirements.