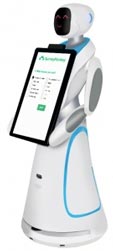 Our survey bot provides a unique experience to gather the data your organisation needs. She can roam around a room or event space gathering your valuable data for you or can simply take a position in a key location. With her novelty and anonymity you're on the right path to getting an often tedious job done right. Her large 24″ touch screen makes data input easy and with her striking good looks, this intriguing approach will have the job done in no time.
We will setup the Survey Bot with your provided survey, Bring her out to your event and set her up ready for your survey session. After the work is done, we will pack her up and will be able to provide you with all the survey results ready for you or your customers analysis.


Interested in a long term lease or purchase of your own Survey Bot please Contact Us to discuss your requirements.